Career planning process
Identifying the right career, course or training route, often called the 'career planning process', helps you focus on what you should do when you start a new career, change your career or progress in your current career. The process can be divided into four parts.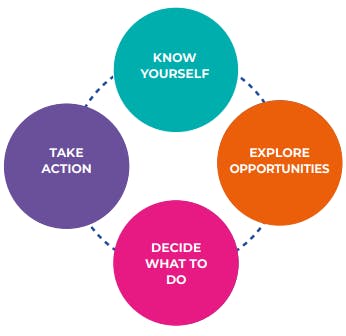 Know yourself: ask yourself 'Where am I now?' and 'Where do I want to get to?', 'How do I get there?' Think about what you enjoy, your interests and skills, and what challenges you. Define your goals.
Explore opportunities: is there a market for your skills and interests? Are your plans realistic? Look at what training and qualifications you'll need and where vacancies are advertised.
Decide what to do: plan how you will reach your goal. Perhaps gain experience at a lower level or voluntary capacity first to 'build' your career. Be realistic in your expectations.
Take action: gain some work experience, make networks, familiarise yourself with the general and graduate job market, research job opportunities, both online and traditional press.
What job roles would suit you?
If you want to generate some job ideas based on your interests, skills and personality type Kudos AD can be a good place to start. Answer a range of questions about your likes and dislikes in MyFuture and it makes suggestions of job roles likely to suit you, and what your interests say about your personality type. The MySkills assessment can help you pinpoint your individual strengths.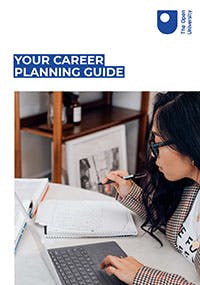 Your career planning guide
Deciding what you want to do with your career can feel like the start of an exciting journey, but it can also feel daunting if you're not sure where to start. Your Career Planning Guide is available to all students, you'll need to be signed in to access the guide.