Develop your career
Enhancing and managing your career is an ongoing process, not just something that you do when circumstances make it a necessity. Organisations will not do this for us. This section has practical advice on being active in your career progression whatever stage you're at.
Continue to develop your strengths, abilities and skills; there are always opportunities for personal and professional growth.
Just started a new job
You're now where you wanted to be: in a new position. What will you do next? Make a good start in your new organisation:
Get ahead in your current job
Even if you've been in your present job for some time don't get stuck in a rut.
Facing a job loss
There are positive steps you can take to plan for your next move even if you're facing redundancy.
The next five years
It's sensible to have in mind a plan for the next five to ten years of your career.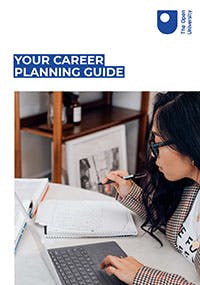 Your Career Planning Guide
Deciding what you want to do with your career can feel like the start of an exciting journey, but it can also feel daunting if you're not sure where to start. Your Career Planning Guide is available to all students, you'll need to be signed in to access the guide.