Develop your career
Enhancing and managing your career is an ongoing process, not just something that you do when circumstances make it a necessity. Organisations will not do this for us. This section has practical advice on being active in your career progression whatever stage you're at.
Continue to develop your strengths, abilities and skills; there are always opportunities for personal and professional growth.
Just started a new job
You're now where you wanted to be: in a new position. What will you do next? Make a good start in your new organisation:
Get to know who the key decision makers are and who needs to be kept on board.
Learn about its culture, know how things get done and how your personality and working style fit in.
Identify and work towards achieving some short-term objectives.
Build up a new network of colleagues and customers, within and outside the organisation.
Get ahead in your current job
Even if you've been in your present job for some time don't get stuck in a rut.
Make the most of existing opportunities such as internal training, appraisals or career development programmes and secondments into a different area or partner organisation
Become involved in a project such as building a website, running a campaign or organising an event in a different area to develop skills and take on responsibility.
Develop your network of contacts.
Think about how you can consolidate your position, or prepare for a move if necessary.
Facing a job loss
There are positive steps you can take to plan for your next move even if you're facing redundancy.
The next five years
It's sensible to have in mind a plan for the next five to ten years of your career.
Think about what you want to achieve in the long term, identify short-term objectives to help you get there.
Use an action plan to track and manage your professional development. Make sure your plan is SMART: specific, measurable, achievable, realistic and time bound. Monitor your progress from time to time, revising your targets if necessary. This can also provide valuable information for your annual appraisal.
Be aware of factors that could affect your sector, perhaps read specialist magazines. The Federation of Industry Sector Skills and Standards and the National Guidance Research Forum give valuable information on employment trends across a range of areas. The Office for National Statistics reports on social trends in the UK.
Take on new challenges, either at work or in your leisure time.
Continue to learn, either formally or informally. Develop your skills, knowledge and abilities can be life-changing, whatever stage of your career.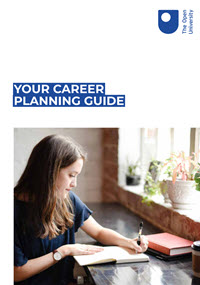 Your career planning guide
Your career planning guide (PDF, 34 KB)
Deciding what you want to do with your career can feel like the start of an exciting journey, but it can also feel daunting if you're not sure where to start. This guide will help you:
Learn about yourself and your skills
Explore different careers, sectors and the world of work
Make informed decisions about your career
Plan your career journey
Look and apply for jobs and work experience