Develop your career
Enhancing and managing your career is an ongoing process, not just something that you do when circumstances make it a necessity. Organisations will not do this for us. These articles have practical advice on being active in your career progression whatever stage you're at.
Continue to develop your strengths, abilities and skills; there are always opportunities for personal and professional growth.
Just started a new job or apprenticeship
You're now where you wanted to be, in a new position. What will you do next? Make a good start in your new organisation by
If you're an apprentice take time to understand the knowledge, skills and behaviour (standards or framework) you'll be developing. As you develop your Training plan part two, the individual learning plan, you'll be encouraged to consider how you can use the apprenticeship to progress towards your career aspirations. Your journey starts here (PDF, 1.76 MB) has practical activities to help you start to set goals and move towards them.
Getting the most out of an apprenticeship
Successfully completing an apprenticeship can be a challenge which will bring career rewards if you focus on your longer-term aims.
Prepare for and use your progress reviews to talk though your situation and discuss development opportunities. Take a look at Appraisals and career development to make the most of this process.
Use the evidence you're collecting towards the apprenticeship knowledge, skills and behaviours to review your CV.
Use the e-learning resources specifically designed for apprentices to actively plan your career. You'll find more information about our careers tools and services, including how to manage your data, in About the Careers and Employability Services.
Apprentices can also book a careers consultation.
Get ahead in your current job
Even if you've been in your present job for some time don't get stuck in a rut.
Facing a job loss
There are positive steps you can take to plan for your next move even if you're facing redundancy.
The next five years
It's sensible to have in mind a plan for the next five to ten years of your career.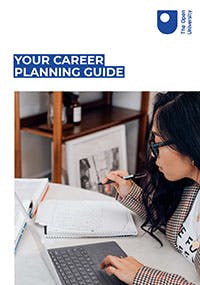 Your Career Planning Guide
Deciding what you want to do with your career can feel like the start of an exciting journey, but it can also feel daunting if you're not sure where to start. Your Career Planning Guide is available to all students, you'll need to be signed in to access the guide.