Your skills and qualities
To analyse your skills and how they relate to skills employers look for, think about:
your personal qualities
skills developed through study
skills developed at work
skills developed outside work.
Personal qualities
Attributes such as patience, humour, initiative and flexibility are relevant to the type of work that would suit you. The better you know yourself, the more likely you are to find a situation that suits you. Your personality affects your style of operating in the workplace and the way you respond to situations.
Have you considered your own behaviour, emotions and reactions? Ask people close to you; they may be able to identify strengths and qualities that you haven't considered.
Skills developed through study
These skills have a positive influence on your role in your family, your involvement in the community, or in your potential to do a job. Whatever your motivation for study, there's a lot to be gained from reflecting on your skills and qualities and seeing how these can be used to enhance your career and personal development.
OU students develop a wide range of skills, such as commitment, self-motivation and confidence, all of which are highly valued by employers and are relevant if you're seeking work, or in work and want to develop or change your career.
Skills developed at work
Try to develop the skills which are essential for work, such as communicating effectively, interacting with people, being aware of the ways in which you learn, and managing your time effectively. Enhancing your capabilities in these areas can help you make the most of opportunities at work.
You may not recognise the wide range and high level of skills and abilities you have. Identify your skills by:
noting down all the jobs you have done
what did you learn from each one?
what skills did you develop in these job roles?
Skills developed outside work
You have valuable knowledge, understanding and skills from everyday experiences, and through training, hobbies, interests and involvement with voluntary organisations. Think about:
your experience and the roles you've had outside work
the projects you have undertaken
organisations, clubs or societies that you've been involved with, or voluntary work you've done.
Each of those roles demands different skills for example if you enjoy DIY, then you've no doubt planned a project, set yourself timescales, organised your work and seen it through to completion.
If you've chaired meetings, then you've taken a leadership role and been diplomatic yet assertive. You've kept to deadlines and ensured that individuals have been included. This demonstrates interpersonal skills.
If you haven't been in formal employment for a while, think about the other skills you've developed.
To help identify suitable careers based on your interests and skills, KudosAD is a tool that can make job suggestions based on your likes and dislikes.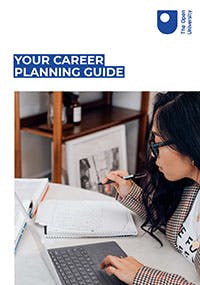 Your Career Planning Guide
Deciding what you want to do with your career can feel like the start of an exciting journey, but it can also feel daunting if you're not sure where to start. Your Career Planning Guide is available to all students, you'll need to be signed in to access the guide.