Some browsers offer so-called 'reader modes'. These present the web page with nothing other than the text and images in the article and dispense with all the distracting additional material that keeps catching the eye. They allow you to read more and for longer before fatigue sets in. Input "Reader mode" and your browser's name into a search engine to learn the latest state of play.
The original version is in Safari. It doesn't work with all pages because of the way they're structured, but on those that it does it's very rewarding. A small icon of a printed page

appears at the left of the address bar if Reader Mode is available for that article. If you click on it (or type Shift-Cmd-R) all the hubbub and babble of a busy web page is replaced with quiet and calm. It's a very soothing experience and highly recommended for any long reading session. You may find that you can use it with your module material pages. It won't work with the planner pages or other listing pages, but you may be lucky with the pages of text and illustration.
It's also available in Safari for iOS (for iPhone and iPad). To invoke it, first navigate to a web page. The same icon appears at the left of the address bar and a reminder drops down if Reader is available. Tap it and a plain, eminently legible version of the article is presented.
It's particularly useful if you're reading a website on your iPhone. Here is an OpenLearn page in its default display on an iPhone: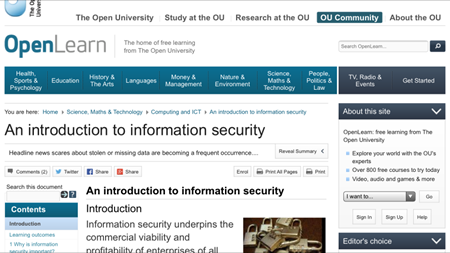 If you invoke Reader mode it strips out all the navigation and other clutter to display this: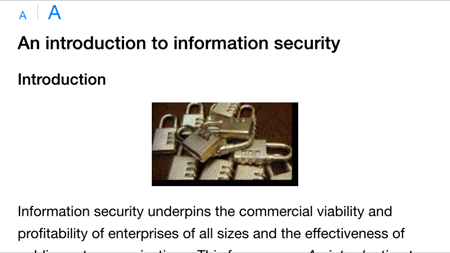 You can change the type size by tapping the small 'A' or the large 'A'. As a result of changing to Reader mode the page becomes responsive and you can read it in portrait orientation: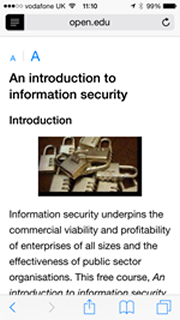 Tap on the reader icon again to return to the default display.
Reading View is available in Internet Explorer 11 running on Windows 8.1 or later. There are many new features in this edition of IE and it's well worth reviewing them at this Microsoft tutorial. The effect is very similar to that in Safari, so review the section above if you skipped it because you don't use Safari.
Note that Reading View only works if
IE is your default browser and
you're using it in "Windows 8 Mode" which is to say that you've started it up from the Start page not from the task bar (it goes to full screen with a completely different user interface using a black background).
If you need to switch IE back to being the default browser,
go to the Start screen (by hitting the Windows button)
start typing the words "default programs" (without the quotation marks)
the typing invokes the Search box which quickly finds the program called Default Programs
open that and select the first option to Set your default programs
select Internet Explorer from the list and click on Set this program as default
This might seem like a lot of preparatory work, but once you've got Reading View working it is truly beneficial.
As with Safari, only some pages will work. Those that do display this icon on the right of the address bar at the bottom of the page:

There is a range of styles available under Options (click on the spanner icon at bottom right and select Options), which allows you to select background colour and size of type. Unusually, the articles are laid out to scroll sideways across the screen rather than the traditional vertical orientation, but they are completely uncluttered and suitable for proper study.
IE 11 on any earlier version of Windows doesn't have the facility.
Firefox for Android offers Reader Mode and it works in a very similar way. The icon to look out for is

It is expected that other versions of Firefox will get Reader mode before long, so check to see whether it has arrived. Similarly, the feature is in preparation for Chrome.
If you use Evernote to clip web pages and store them you can simultaneously convert them to a simplified form even if your browser doesn't offer a Reader mode. This is a good way to lose irritating adverts and other extraneous matter that you'd otherwise store for ever in Evernote.
Be easy on your eyes
Controlling the type and the page layout, as far as you can, will help with eye fatigue. Another factor is the brightness of the screen. You should reduce the brightness setting of your screen as the day darkens – you need less brightness in artificial light than in daylight. And, of course, you should take frequent breaks from the screen to give your eyes a rest. If your computer is a laptop or mobile device the battery will last significantly longer at a lower screen brightness setting.
There's another reason to turn the brightness down: there is evidence, for instance in this article in Nature, that sustained viewing of screens late at night disrupts the eye's regulation of our circadian rhythms, disrupting sleep patterns.