Studying on a screen
Additional module material formats
Most module materials are offered in a range of formats in addition to your module website and print materials. These formats are intended to increase study flexibility and are optional to use.
Alternative formats are intended to supplement, rather than replace, your primary study materials. It's important to note that some online content, such as videos or interactive activities, may not be available in some or all of these formats. You may also find that some content, such as tables and graphs, does not display correctly in alternative formats and you should always check the module website for the authoritative version. You should also always use your module website for assessment materials.
Available formats
The following list tells you about the different formats that may be available and how they might help you and your study. However you can find out more about these formats, their specific uses and compatible software, as well as their limitations in the Open University Computing Guide.
Not all modules provide all of the formats listed below, and you can find out more information about the formats available for your specific module on your module website. Your module will also have an accessibility guide and you should always check this for any specific issues or advice.
Ebook (EPUBs)
Electronic publications (EPUBs) are the most common form of ebook and will be usable with most e-readers. Downloading your module materials in EPUB format to your e-reader may be helpful if you are looking for a portable way to study your materials offline or if you require your e-reader to help support your study due to a disability. In most cases you can adjust EPUB files to change the setting for font size and colour to suit your needs.
EPUBS come in two versions, EPUB 2 and EPUB 3. EPUB 3 files usually allow you to play any audio-visual items within your study materials as well as work through some interactive activities, however this depends on the software or device you're using. EPUB 2 files are more limited. You can find more information in the OU Computing Guide .
PDF
PDF downloads can be used offline across a range of devices. You will need an up-to-date version of Adobe Acrobat Reader in order to view them. PDF downloads might be useful if you want to print out some of your module materials to make notes on directly, you can also make notes on them electronically. Find out more about working with PDFs.
Adobe Acrobat Reader also has a 'Read Aloud' function. For more information on ways you can listen to your module materials see Listening to your study material.
In addition to PDF versions of your module's website content you may also find that you can download PDF versions of your print materials.
Word version (optimised for screen readers)
You can download and use the Word version of your module materials with most Windows Office software and on many mobile applications. The Word format is particularly useful if you want to annotate your materials or if you use the JAWS screen reader. Word documents also provide flexibility for changing font size, colour and spacing and can be used offline and printed.
DAISY Digital talking books
Some modules provide DAISY digital talking books which are audio representations of your module materials. This could be a useful portable study option, or helpful if you have a specific learning difficulty such Dyslexia or a disability that makes taking in information through reading more difficult. You can learn more about DAISY books in Listening to your study material.
Where to find additional formats
You can find the additional formats provided for your module in the 'Resources' section of your module website. Once there, click on the 'Downloads' link.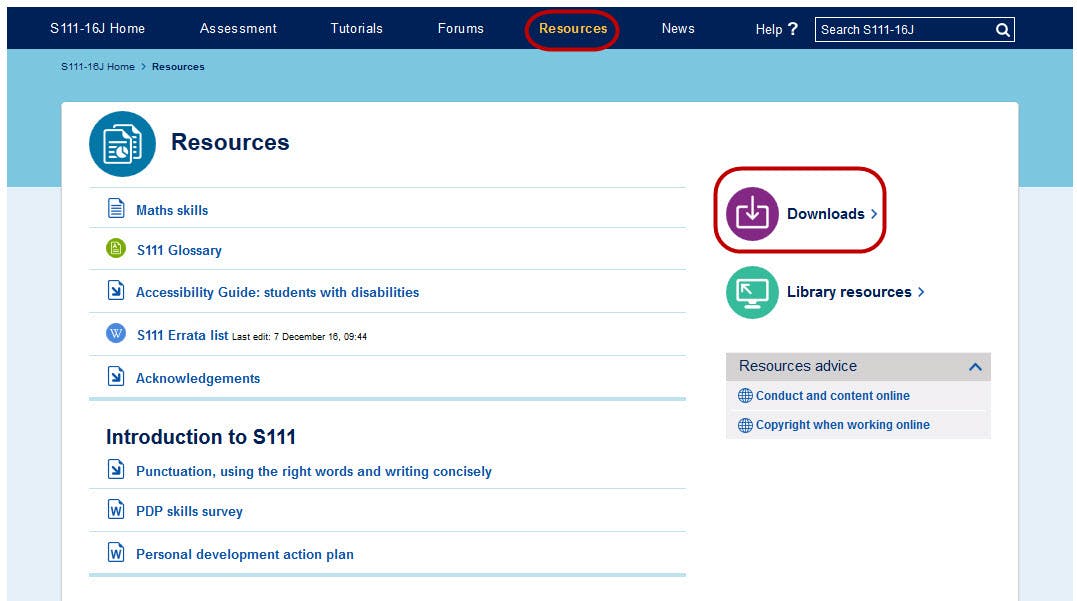 In addition to this, at the bottom of each page within most study items on your module website you'll find a 'Downloads' link which will provide you with the downloads available for that specific item.

You can find out more information about downloading different module material formats as well as other elements of your module website in the OU Computing Guide.
OU Study App
OU Study is the companion app for OU students to use alongside module websites. The app gives you access to your study planner, learning materials and the ability to download your materials so you can use them offline. It's therefore useful if you're looking to study on the go and to quickly access OU websites.
For more information on the OU Study App see the OU Study App website.
Requesting additional support with module materials
If you have told us about, or now want to tell us and provide evidence of, a disability or health condition, you may be eligible to request adjustments such as assistive technology or printed materials. You can also contact the Disability Support team to discuss your needs.