Develop your career
Record and review your development
Why record your achievements?
Accurate records of your achievements and progress can help you to:
plan your studies
identify training and development needs
produce evidence for professional recognition
hunt for jobs and apply for them
stay on track.
Review and reflect
If you've worked through the action planning process you'll be aware that you should review your goals and monitor your progress on a regular basis. At key points, such as when you register for your next module and when you get your results, you should:
revisit your goals and revise your timescale
adjust your goals in the light of your achievements.
Sometimes plans don't work out as expected, so be prepared to stand back and reappraise the situation. Ask yourself these questions:
Was I being realistic in my plans?
Were my plans affected by events I could not influence?
Was there something I did or did not do that altered my plans?
Did I have alternative plans or strategies?
By reflecting on these points it may be possible to make your goals more achievable.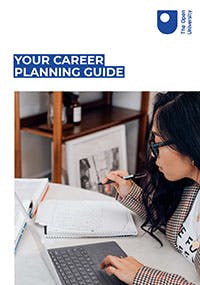 Your Career Planning Guide
Deciding what you want to do with your career can feel like the start of an exciting journey, but it can also feel daunting if you're not sure where to start. Your Career Planning Guide is available to all students, you'll need to be signed in to access the guide.