On this page
If you have a specific job or career you want to work towards, begin with job profiles as a way to learn and understand what a particular job involves, what qualifications are required and if it will suit you. To explore jobs more broadly it's worthwhile to look at careers related to your study subject as you may find interesting options that you haven't thought of before.
Read job profiles
Check out job profiles for roles you're interested in. This will give you some basic information about a role including skills, responsibilities and salary expectations.
Browsing job profiles can help you:
Check that your qualification will provide the skills needed for your desired job.
See what jobs are related to your qualification.
Explore jobs in a particular sector.
Browse by nation to find out about job roles specific to where you live.
You can find more job profile information searching online.
International job profiles
Job profiles can vary greatly depending on the country. If you live outside of the UK we suggest you search for a national job profile site specific to where you live. If you live in the UK and are thinking of working abroad a useful starting point would be Targetjobs - Working abroad.
Careers related to your subject
A useful starting point for your research into potential careers is OU study and your career.
Your Study Home page
You'll find careers information related to your qualification on your Study Home page, including typical job roles and links to labour market information under the Succeed tab. These sites are being continually updated, so make sure you check back regularly.

The 'Succeed' drop down menu item shows three sub-menu items 'Lawyer careers', 'Non-lawyer careers' and 'References from The Open University'. Screenshot.
On the same page you can browse other subject areas by selecting 'browse all' under 'Your subjects'.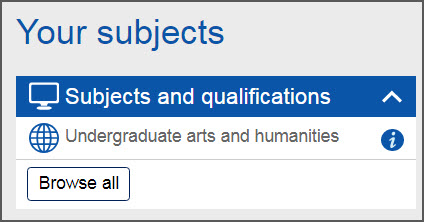 The 'Your subjects' section shows the toggle menu item 'Subjects and qualifications' expanded with one sub-menu item 'Undergraduate arts and humanities'. Screenshot.
The OU online prospectus
You can also find useful careers information in the
OU online prospectus
.
Contact us
If you want help and advice to achieve your career goal you can contact the careers team.