Careers contacts
For current or former students (within last 3 years)
For prospective or former students (over 3 years ago)
We can provide careers information to help you decide what to study at the OU. If you need further careers support before studying you can use the following resources:
For the Republic of Ireland as there is no national adult careers guidance service in the Republic of Ireland. You could try contacting your local educational/career guidance agency. If studying, contact your institution's careers adviser or guidance counsellor or visit AONTAS for educational guidance contacts.
For Employers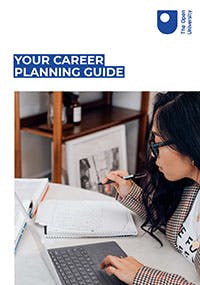 Your Career Planning Guide
Deciding what you want to do with your career can feel like the start of an exciting journey, but it can also feel daunting if you're not sure where to start. Your Career Planning Guide is available to all students, you'll need to be signed in to access the guide.