Develop your career
Before making a career change
If you're thinking of a career change, it's important to consider some key questions to clarify your reasons for wanting to change.
What is it about your present/last job that is making you consider a career change?
is it the nature of the job, or the people you work with?
is it due to a lack of opportunity within the company?
is it management or organisational practices?
has there been major reorganisation? Is change being forced on you?
What aspects of your career do you want to change?
achieve a better work–life balance
earn a higher salary
gain more independence
feel you're making a more tangible contribution to society.
It may be useful to have a personal development plan that details your preferences, your goals and your plans for achieving them.
If you're in work, you can use your appraisal system to discuss aspects of your job that are important to you and ones that you want to change, rather than resorting to changing career.
Are you prepared to invest time and money in study or training?
A career change can involve training for new qualifications or topping up existing ones. Consider the investment of time, money and energy.
Funding may be available for study depending on your circumstances. The following organisations offer finance schemes throughout the UK
Many OU students also qualify for additional funding and financial support. Have a look in Payment, bursaries and enrolment to see what schemes are available.
Are you prepared to take a drop in salary?
While you'll be able to use your transferable skills in your new career, you may have to consider starting in a role that has less responsibility and a lower salary. Can you afford to do this in the short, medium or long term?
Do you have the support of those close to you?
The changes you make will affect those around you, and by discussing the implications of changing career you can ensure you have support and encouragement when you need it.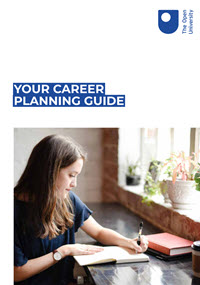 Your career planning guide
Your career planning guide (PDF, 33 KB)
Deciding what you want to do with your career can feel like the start of an exciting journey, but it can also feel daunting if you're not sure where to start. This guide will help you:
Learn about yourself and your skills
Explore different careers, sectors and the world of work
Make informed decisions about your career
Plan your career journey
Look and apply for jobs and work experience