Making notes online
Making notes in PDF documents
PDFs are more like paper documents than are other computer files, and it's as easy to add notes and highlights to them as it is to paper. For example, you can add the equivalent of highlighting, marginal notes and callouts to the file.
Make sure you have a fairly recent version of Adobe Reader for security reasons. The current version is DC at the time of writing and it works with Windows 7 and later. If you use an earlier version of Windows the previous version of Reader, Reader XI, works with most and Reader X will cover the rest. On a Mac, DC works with OS X 10.9 and later and Reader XI goes back to 10.6. You can download the older versions of Reader from Adobe's legacy download site.
Adobe Reader's tools are explained in the Adobe help centre.
Preview's tools are fewer in number but include all that you really need. They are explained over on Apple's website. In Adobe Reader you can search your notes to find a particular point (Shift-Ctrl F offers this option, Shift-Cmd F on a Mac). This facility alone probably makes Reader a better option for annotating than Preview for Mac users.
One trick worth using in Reader makes the tool you last used persistent (ie it remains selected after you've used it). Open the Comment area by clicking on the button at the top right marked Comment. This reveals all the tools. If you are going to make a series of highlights you should right click (Ctrl-click on a Mac) on the highlighting tool and click to accept the option to Keep Tool Selected. This makes highlighting in the file much easier as you don't have to select the tool each time before making a mark. To change the colour of the highlighter select the other option of Tool Default Properties and go to the Appearance tab in the box that opens. Select your preferred colour by clicking on the yellow square and choosing one of the options.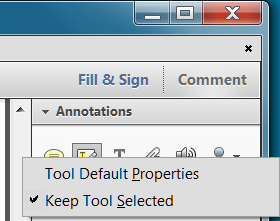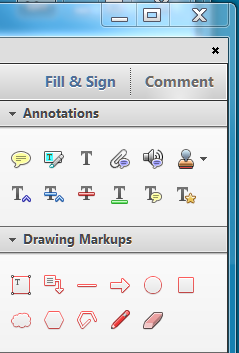 As well as highlighting, you can add sticky notes that look like this.

These can be clicked on by the reader to reveal the text, then collapsed down again. Many of the Drawing Markup tools are useful, particularly the callout tool which is very handy for adding explanations to diagrams and tables.

Make PDFs from your module materials
If you find these tools useful you can use them with your module materials. Either download the material as a PDF from the Resouces tab on your module website or make PDFs from the study guide topic.
To do this, go to the topic in your study guide, on the module website and click View as single page (in the left hand column below the navigation menu).
If you want a PDF with large type and spaced lines adjust the default font size your browser's using, as described in Techniques for reading online material. It has to be the default setting rather than the temporary change achieved by Ctrl + or Cmd + on a Mac.
Print the web page to PDF by using the print command (Ctrl-P, Cmd-P on a Mac). On a PC you typically select a virtual printer – PDF Complete is bundled with many computers but yours may have a different name, or you may have to acquire one – and click Print. If you use Chrome as your browser just select Save to PDF in the print dialog. This makes a PDF file, which you have to name and save, rather than a physical print.
On a Mac, click on the PDF button at the bottom of the print box and save the file as a PDF. The new file will open in Reader or Preview and you can annotate it.